A few nice mold chinese images I found:
BK0021Y-Antique-Chinese-Ming-Cabinet


Image by Silk Road Collection
"The cabinet is designed in the classic Ming style-sleek, simple, and graceful. The medium-brown finish reveals the rosewood grains beautifully. The doors are attached by traditional wooden pegs. The molding and the legs are rounded and the front leg spandrels are slightly curved. Inside the cabinet are two ""finished"" storage areas and two drawers. The hardware is brass.
Two of these cabinets are currently available but can be sold separately. Price listed is for each cabinet."
Grass Mud Horse – a Maquette for Ai WeiWei


Image by melter
one finger salute from an empty Chinese handcuff. Cast iron base cast in green sand at Ox-bow in 2007, aluminum "finger" cast in 2012. Finger was cast in a burn out mold, using a bamboo Chinese handcuff (finger trap). You are only trapped if you resist in the way expected.
Leamington Spa Station – bridge on High Street in Leamington – Jordans Fireworks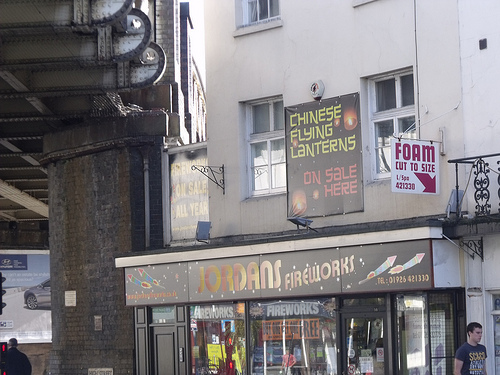 Image by ell brown
This is Leamington Spa Station in Warwickshire.
I got here on a Chiltern Railways train from Solihull.
Was lucky that I had blue skys in Leamington, especially for an October day (have been having many blue sky days in October 2011).
The current Art Deco building was opened in 1939.
And is Grade II listed.
It was opened by the Great Western Railway to replace the original building of 1852.
The building was restored by 2008 by Chiltern Railways.
Grade II listing Leamington Spa Station, Including Attached Platform Structures, Royal Leamington Spa – British Listed Buildings
Main line station 1939 for Great Western Railway. Steel-framed sheathed in brick; faced with Portland stone above polished granite plinth; brick to rear/platform elevations. Flat roofs with parapet. Wooden sashes with stone architraves. Platform canopies steel girders with cast iron columns. Art Deco neo-classical style.
EXTERIOR: To forecourt, ENTRANCE RANGE of 3 storeys and 9 bays, LEFT RANGE of 2 storeys and 14 bays, and single storey RIGHT RANGE. ENTRANCE RANGE has advanced ground floor with granite plinth, rusticated Portland stone, and parapet. Main entrance has granite architrave, pair of glazed doors with side- and over-lights, horizontal mullions and 'ENTRANCE' in metal lettering flanked by three 6-over-9 sashes, all under glazed canopy. Above this, 5-part facade has central 3 bays defined by shallow pilasters with stepped vertical detailing, flanked by slightly taller and advanced single bay, then double end bays; all with 6-over-9 pane sashes to 1st floor, 3-over-6 pane sashes to 2nd floor, and projecting stepped cornice below parapet. 'LEAMINGTON SPA STATION' in sans serif lettering to parapet over central 3 bays. To right, single recessed bay blank above entrance. RIGHT RANGE has 1-storey subway entrance with 3 wide openings outlined in polished granite under 3 blind panels, inside walls canted to subway passage. LEFT RANGE has parapet roof above flat cornice, banded string course, and continuous polished granite plinth. Central bay advanced slightly with pair of 4-over-6 pane sashes above entrance with granite architrave. Two 6-over-9 sashes to otherwise mostly blank first floor, and 6-over-9 sashes to ground floor with secondary entrances to each end also within granite architraves. Far left is advanced with similar windows and door on return. Return elevations stone with brick to rear/platforms. INTERIOR: Booking Hall and subway tiled above granite plinth. Stairs to each platform with stick metal balusters, some wavy, and wooden handrails. Balustrade and newels at platform level have circular and wavy details.
PLATFORMS: 2 primary platforms 'Down' and 'Up' (to London), and 2 shorter platforms for stabling trains. The linear platform buildings have brick walls with granite plinth and cantilevered canopies edged with bargeboards and framed with steel girders springing from stone pilasters and stepped corbel blocks. Platform extends beyond the buildings where canopies are supported by paired cast-iron columns. Down platform has former telegraph room with wooden and glazed panelled entrance, waiting room, buffet, lavatories. Up platform has waiting room and service rooms. Wood framed glazed doors with metal mullions, handles and curved bars in a Deco style. Waiting rooms finished with wood architraves to doors and fixed pane with overlight windows to platforms, blocked fireplaces, coved and beamed ceilings, and fixed wooden bench seating. Buffet fully panelled with polished walnut, continuous bar similarly panelled below moulded edge, back bar; fireplace to north with mirror and panelled overmantle and fluted band to top. Lavatories with wooden doors and stone Deco style fireplaces. Some original benches with 'GWR' scrolled in supports on platforms.
HISTORY: This station replaced the 1853 Brunel station that was demolished in 1935, which had in turn replaced the large Georgian Eastnor Terrace.
SOURCES: Great Western Railway Magazine July 1937, December 1937, March 1940.
Royal Leamington Spa courier Nov. 13, 1936.
Took these as I was leaving Leamington.
Railway bridges under the station.
I would have got this bridge first, but I earlier went down Lower Avenue, so got it on the way back to the station.
Bridge on High Street in Leamington
Also passing under is Bath Street and Clemens Street.
A quick shot of Jordans Fireworks – not to long until this years Fireworks Night.
They sell Chinese Flying Lanterns and other fireworks types.