Check out these plastic molding service images:
Lend-Lease buttons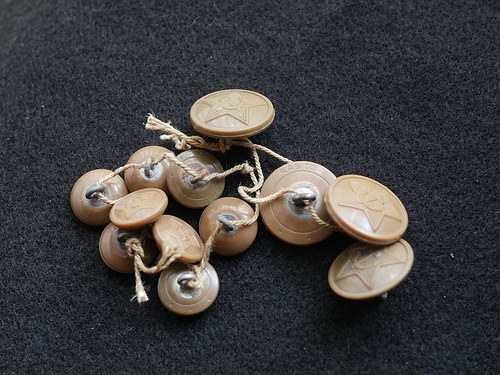 Image by Bushman.K
These are military officer field uniform buttons my grandfather got in the beginning of his service in 1945, before the end of WWII.
Interesting fact about them is that at least half of them were supplied to the USSR by the United States as a part of Lend-Lease program. They were manufactured by the Richard Alan Button Co. You can tell that by "R.A.B. Co" logo on the reverse side of the over-molded plastic. Another half might also be produced in the US using the same over-molding process, but they don't have any logos to confirm that.
As far as I can tell, this company still exists in Brooklyn, NY and continues to make small stamped metal parts (at least, it has NSN for military contracts assigned to some of them).
dinosaur from the past


Image by AndGeorgeMakes4 Studios
At the Chicago World's Fair of 1933-1934, Sinclair sponsored a dinosaur exhibit meant to point out the putative correlation between the formation of petroleum deposits and the Age of Dinosaurs. The exhibit included a two-ton animated model of a brontosaurus. The exhibit proved so popular it inspired a promotional line of rubber brontosaurs at Sinclair stations, complete with wiggling heads and tails, and the eventual inclusion of the brontosaur logo. Later, inflatable dinosaurs were given as promotional items, and an anthropomorphic version appeared as a service-station attendant in advertisements. Some locations have a life-size model of the mascot straddling the building's entrance.
At the New York World's Fair of 1964–1965, Sinclair again sponsored a dinosaur exhibit, "Dinoland", featuring life-size replicas of nine different dinosaurs, including their signature brontosaurus. Souvenirs from the exhibit included a brochure ("Sinclair and the Exciting World of Dinosaurs") and molded plastic figurines of the dinosaurs featured. After the Fair closed, Dinoland spent a period of time as a traveling exhibit.
This was originally a Sinclair Service Station near Spring Hill, FL. .
A moulded plastic fashion doll (1960s – 1970s), 1989_263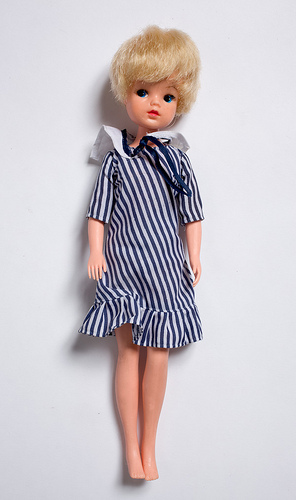 Image by Black Country Museums
It is a Sindy doll or a copy, with short blonde hair, and is wearing a 1960s style striped blue dress and beaded necklace.
For more information please visit blackcountryhistory.org/collections/getrecord/WASMG_WASMG…